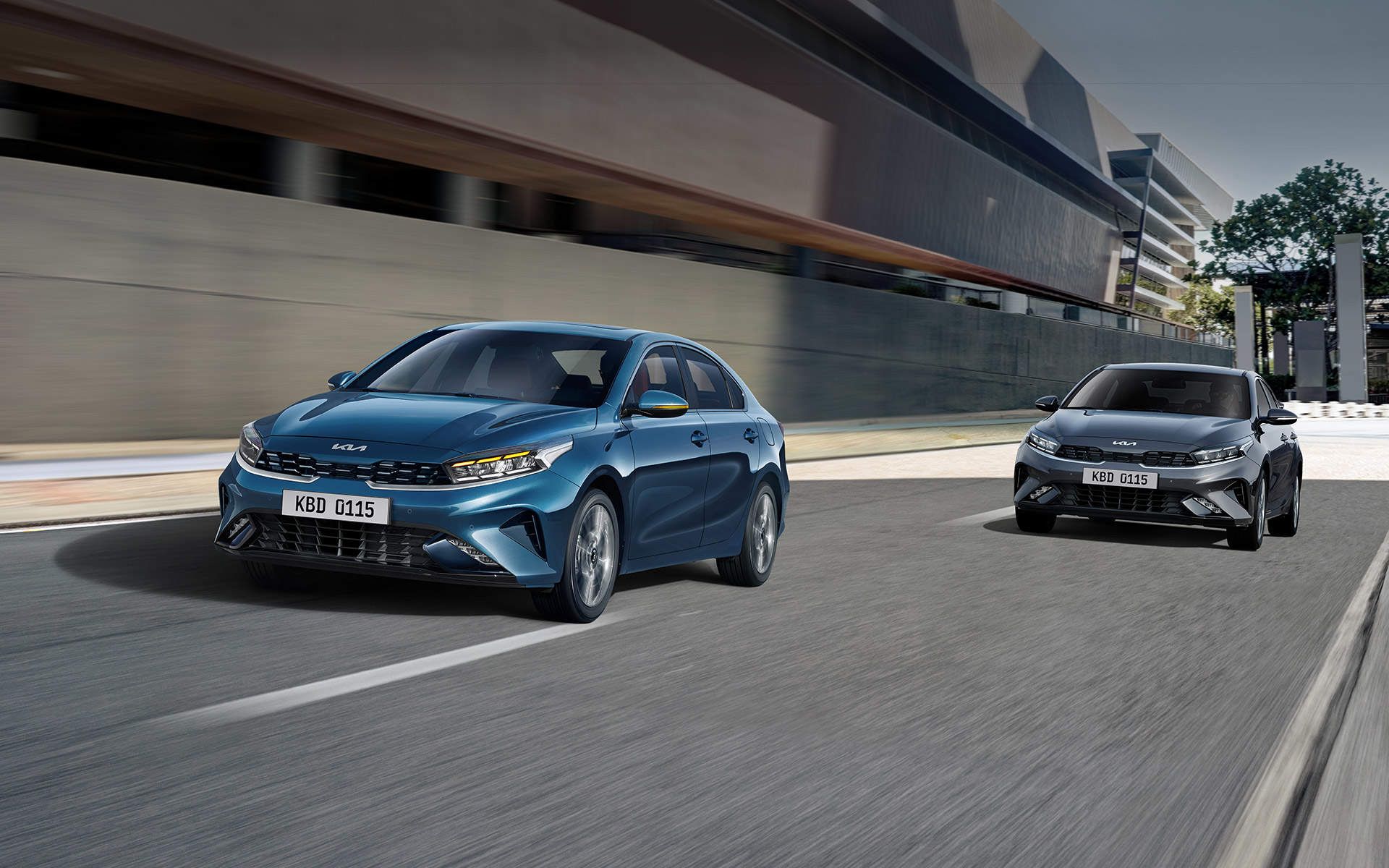 Cerato
Restart the magic with every drive
Take the wheel of the stylish new Kia Cerato and start your day feeling invigorated, relaxed and capable of anything. This remarkable compact sedan delivers inspiring performance, along with the latest driver assistance and entertainment technologies. Life just got more interesting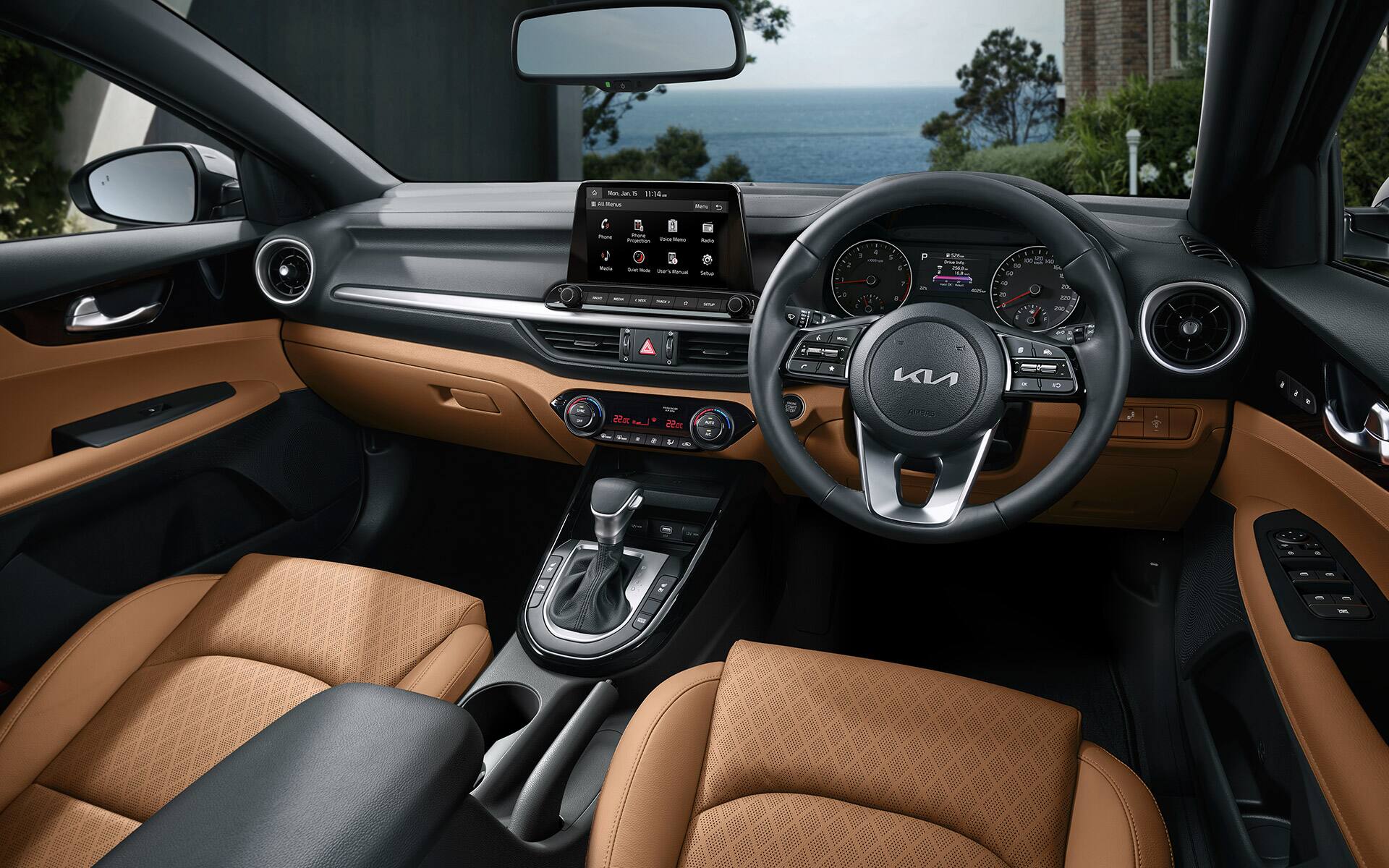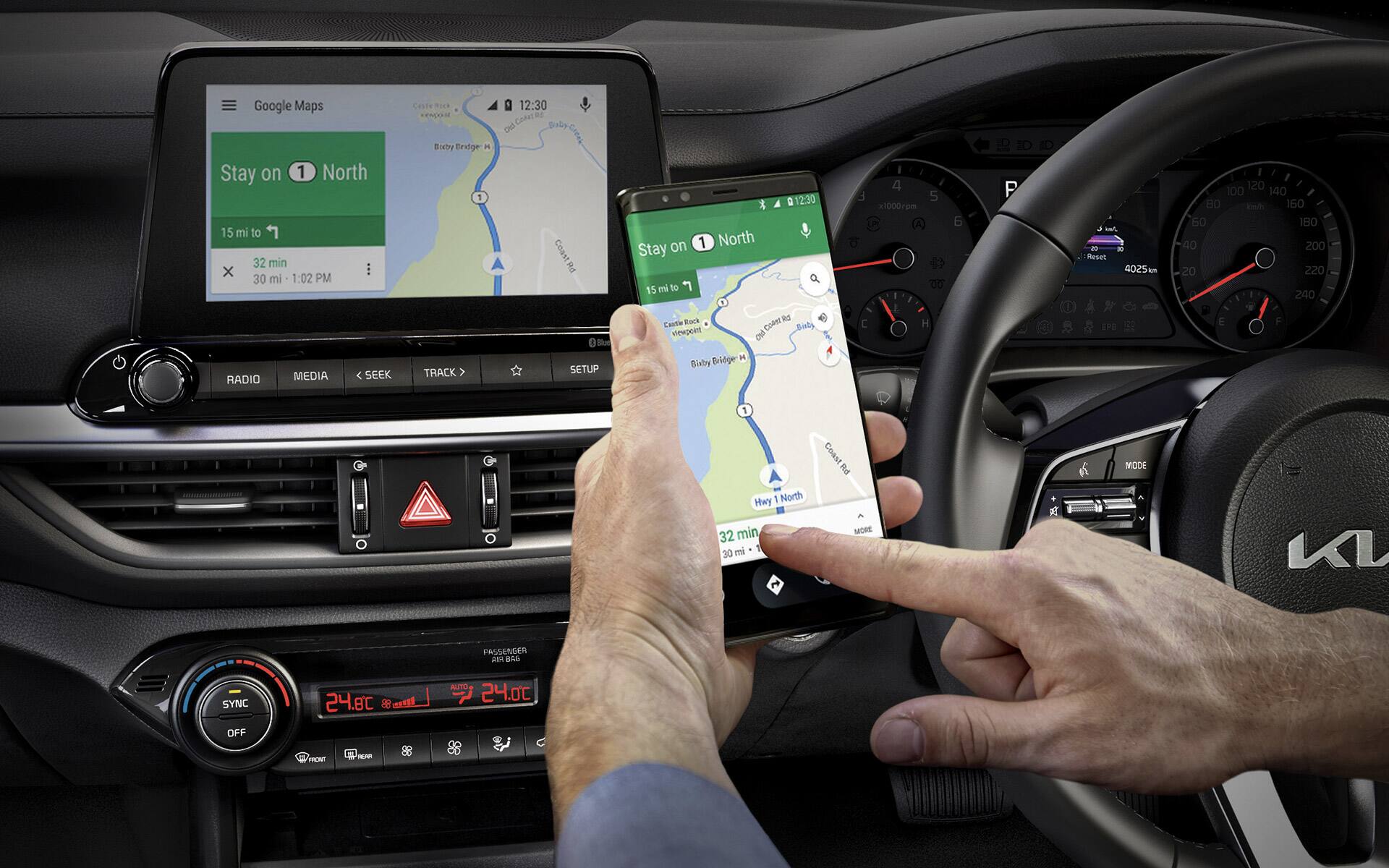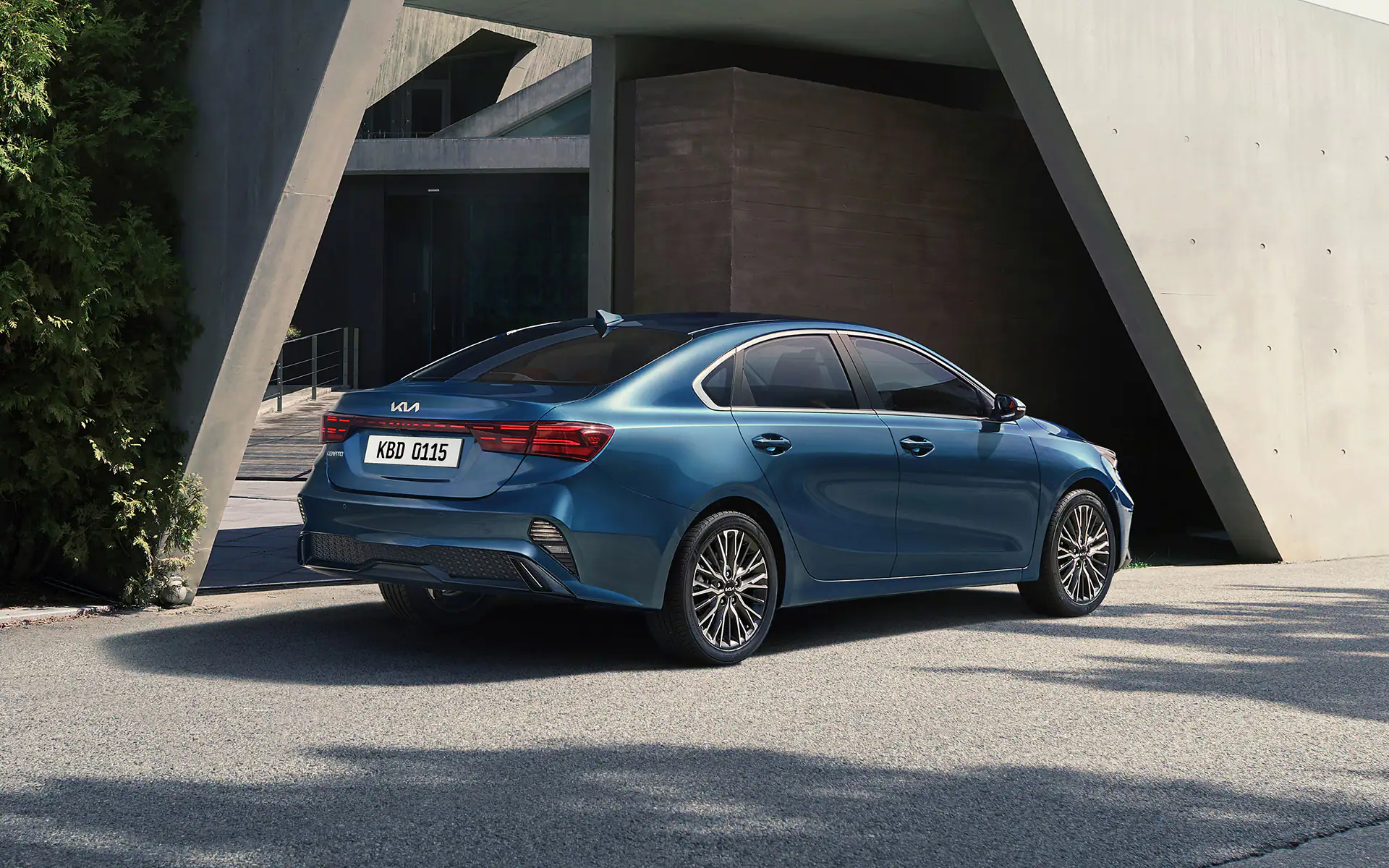 Features

Options might differ by regions.
All information and illustrations are based on data available at the time of
publication and subject to change without notice.
Contact your local Kia dealer for current information

Interior

Modern simplicity practical luxury
Simplicity is the key to the luxuriousness of the Cerato dashboard. The look is clean throughout, with driver information appearing sparingly on the instrument cluster and floating center monitor. Metallic trim gives a sporty yet sophisticated touch, while sleek lines connect the turbine-inspired air vents at either side.
4.2-inch supervision cluster Get crucial vehicle and driving information from this multi-tasking, multilanguage screen positioned between the tachometer and the speedometer. CLOSE
Sunroof Experience the refreshing sensation of open-top driving with the tilting and sliding, one-touch power sunroof. It opens and closes fully with one simple press of a finger.
Electrochromic rear view mirror
8-inch display audio system Refreshingly easy to read and operate, the vivid 8" color LCD touchscreen controls the audio system, while giving you access to a wide-range of vehicle information. It is also linked to the rearview camera and features dynamic guidelines for easier reverse parking.
Ventilation for 2nd row passengers
60:40 split folding seats
Floor console cup holders
Rear center armrest with cup holders
Integrated Memory System (IMS) IMS lets you save two different, personalized presets for the driver's seating position, outside rear-view mirror positions and cluster display information. CLOSE

Exterior

A perfect balance fun and function
The enticing silhouette of the Cerato extends from its long hood, under which its power is generated, to the spacious cabin, where there is ample legroom and headroom thanks to the gentle sweep of the roofline. Every day, you will find new possibilities to explore in a sedan that is built to go beyond.
The Cerato has the best of both worlds—a sporty character grounded in a nimble suspension and responsive drivetrain, coupled with the allure of a spacious, welcoming interior. Aerodynamic contours draw the eye from front to back, while its daring stance signals that it's up for anything
Eye-catching from any angle There are a number of stunning details you'll notice every time you return to your Cerato. The boldly shaped, complex headlamp housings. The intersection of the side contour and the front grille. And how the tail lamps seamlessly blend with the rear trunk lid spoiler. Every line on the Cerato contributes to its winning personality. CLOSE
Built for motion stunning at rest
Electric outside mirror

Highlights


Small touches that add up
The appeal of the Cerato goes far beyond just style and comfort. Everywhere you look, you'll notice details that are mindful of real-life situations. From the ease of getting in and out of the vehicle to the ergonomic controls at your fingertips, the Cerato helps you enjoy modern life to the fullest.
Power seats & lumbar support the 10-way power-assisted driver's seat electrically adjusts so you can easily find your ideal driving position and store your setting using the integrated memory system IMS.
Power lumbar-support controls let you further fine-tune the seating position for additional comfort and fatigue-free driving.
Air-ventilated front seats & seat warmers Subtle perforations in both the cushion and the seatback of the front seats promote cool, soothing airflow. On cold days, powerful front seat warmers activate quickly, so you can relax and focus on driving. The front seat warmers are activated using console-mounted switches, and can begin heating as soon as the ignition is turned on.
Smart trunk Shopping and transporting large items have never been easier thanks to the Smart Trunk. When your hands are full of bags, luggage or sporting gear, the trunk lid can be set so that it unlocks and opens automatically when the smart key is in the detection area for at least three seconds. CLOSE
Heated steering wheel
Auto defogger system
Wireless smartphone charger Charge a compatible mobile phone wirelessly on the pad at the front of the center console. An orange light indicates charging in progress; green indicates a full charge. CLOSE
Push-button start The engine start/stop button lets you turn the ignition on and off with the simple push of a finger. CLOSE

Performance


Daily performance powered by ingenuity Enjoy spirited and responsive performance with the lively 1.6-liter gasoline engine, the more powerful 2.0-liter gasoline engine or the efficient 1.6-liter diesel engine. Gasoline engines feature Dual Continuously Variable Valve Timing (D-CVVT) and electronic fuel injection.
6-speed automatic transmission & 7-speed DCT The 6-speed automatic is silky smooth and precise while the 7-speed Dual-Clutch automatic allows even quicker gear changes. CLOSE
Drive Mode Select (DMS) With both automatic and Dual-Clutch Transmissions, DMS lets you choose Comfort, Eco or Sport mode to suit your preferences and driving conditions, or a new Smart mode, which switches between these three modes based on how you drive. CLOSE
Phenomenal rigidity with smarter materials The Cerato boasts substantial torsional rigidity thanks to strategic application of hot-stamped steel and Advanced High-Strength Steel. The body resists twisting forces, so jolts are absorbed with precision. In the event of a collision, impact forces are managed in ways that better

Safety

6 airbags To help protect occupants and potentially reduce injuries in the event of a collision, the Cerato includes driver and front passenger airbags, two front-side airbags and available side-curtain airbags running the length of the interior on each side
Electronic Stability Control ESC Optimal braking performance and directional control are ensured by automatically delivering the right amount of braking force to each wheel based on evaluation of engine torque and driving circumstances.
Anti-lock Braking System ABS By continuously sensing wheel speeds, ABS detects when a wheel is going to lock, then modulates brake pressure to the wheel to help maintain control.
Hill-Start Assist Control HAC When you're stopped on an incline, HAC can help prevent you from dangerously rolling backwards. When you take your foot off the brake, HAC will maintain braking for two more seconds before you press the accelerator, which disengages the HAC.
Blind-Spot Collision Warning BCW Using radar technology, BCW warns you if it detects a vehicle approaching from behind or in the adjacent lanes of travel. The system employs visual alerts on the side view mirror to inform the driver when it detects a vehicle in the blind spot.
Rear Cross-Traffic Collision Warning RCCW When reversing out of a parking spot or driveway, RCCW scans the area behind the Cerato using radar technology and alerts you with an audible warning signal if it senses a vehicle crossing your intended path.
Parking Distance Warning-Forward PDW-F To help you park safely and confidently, PDW-F uses ultrasonic sensors mounted on the front and rear bumpers to warn of any obstacles. These warnings can help you position the wheels properly when maneuvering the Stinger into tight spaces.

Specifications

All information and illustrations are based on data available at the time of
publication and subject to change without notice.
Contact your local Kia dealer for current information.